Discover Why Pleated Blinds Are The Best Blinds For Your Home.
Pleated blinds are modern and neat, and the most versatile type of blind suitable for conservatories, sunrooms and large glazed areas. They offer a fashionable modern look and are suitable for all styles and types of conservatory and sunroom. Most pleated blinds are solar-reflective, designed to significantly reduce incoming glare and UV, reducing the temperature in summer and increasing insulation in the winter months.
Each blind is made according to our survey and can fit the most intricate and complicated windows. They are especially suited to being fitted into the recess of windows, allowing each blind to pivot in and out with opening windows thus allowing you to achieve shading and ventilation at the same time. Recessed Pleated Blinds are perfect for bi-folding doors, concertina doors and tilt and turn windows. They can be fitted into the beading around the edge of the glass and are secured at the top and bottom of each panel.
You can choose from a wide range of shades, colours and patterns that are available in a beautiful range of fabrics. We also have a range of colour options for our rails as well including brushed steel, black, cream, white and brown.
These Child Friendly Blinds are also secured at the top and bottom of each panel excluding the possibility of blinds flapping around when doors or windows are opened.
Elegant and stylish, each blind can be raised to a neat stack to give you a wonderful view outside. When closed, pleated blinds  shade your home and allows softly filtered light to drift through while the special, solar reflective coating on the back of the blind deflect out the sun's harmful UV rays.
Benefits of Pleated Blinds include:
* Solar reflective, reducing incoming heat in summer
* Light filtering to reduce glare and give privacy.
* Easy to use with a choice of control options.
View Our
Recent Installations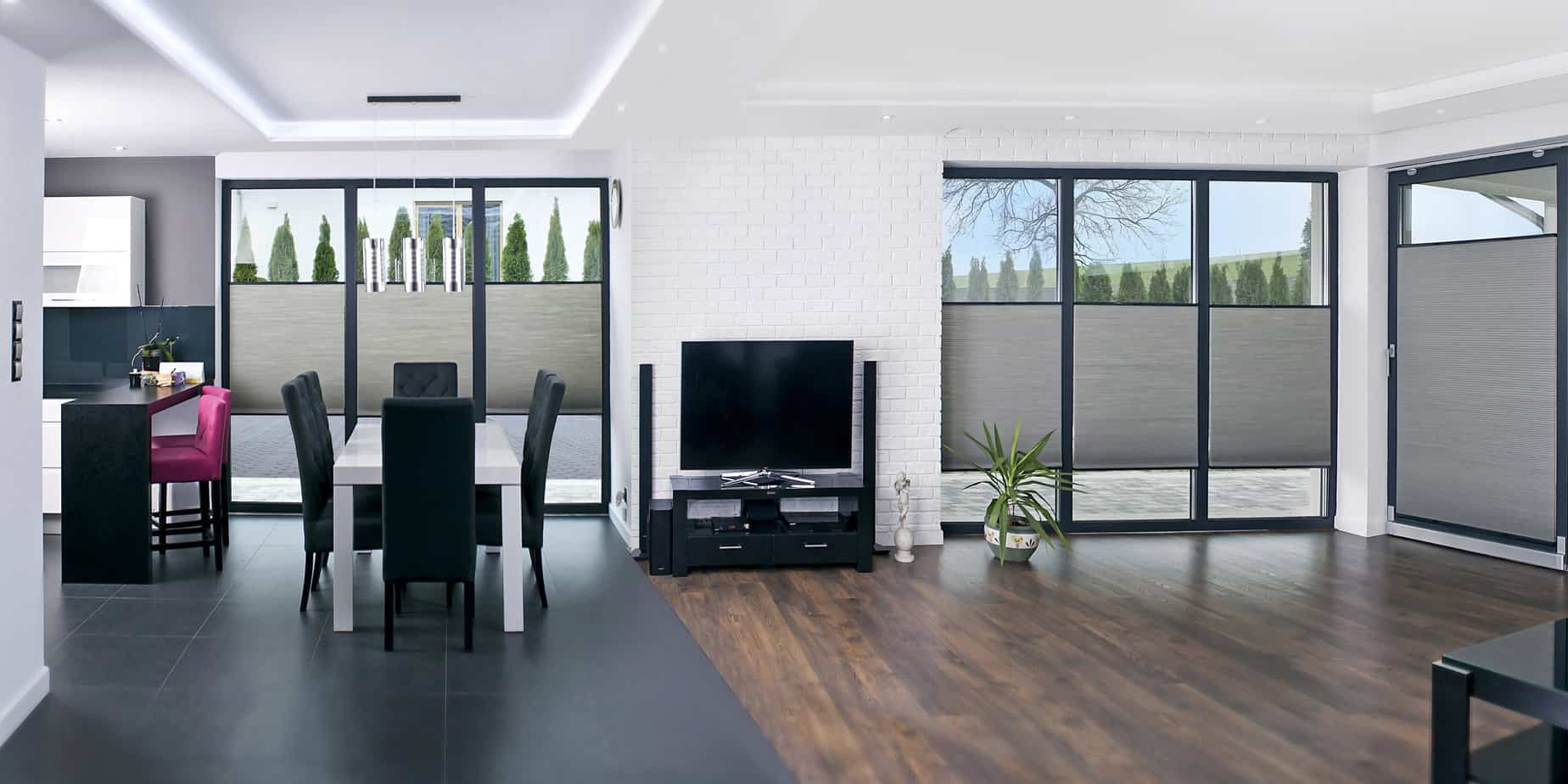 Our Pleated Blinds Gallery
Why not check out our Pleated blinds Inspiration Gallery to help you choose the perfect shading solution for your home.
Request More Information
If you are looking for information or just to get inspired we have the experts and all the information you will need. Fill in our short form by clicking the button below
Book an Appointment
Book one of our experts to visit your home or office. This service is available anytime, evenings, weekdays & weekends and is a no-fee, no obligation service.